Moon Shine… the extent of my experience hearing about it from Otis and the Sheriff on the Andy Griffith Show…based on a town not too far from me.
I love this refreshing drink from Trim Healthy Mama. Have you heard of THM? It is all the rage over the internet and helping to create healthier moms and families. I recently purchased the book and have almost made it through the 619 page book. That is right. It is a huge book, but oh my, what a book. This is an investment in your health, family and future.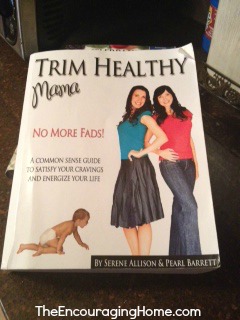 I am all about keeping our families healthy through T-Tapp, essential oils and supplements. But life has been hard. Very hard the past few years and I have slipped off the healthy eating wagon while maintaining the other things. I can help people to get healthy, but sticking to it myself has been a different story.
Now I am climbing back up and forging ahead to get back on the wagon of healthy and balanced eating. It is taking me awhile to make it through this amazing book. I have found myself frustrated that I haven't finished it yet. Then I look at how busy life has been ~ homeschooling, farm life and managing calves on our dairy farm that milks almost 750 cows three times a day, bookkeeping, running a blog and online business…in addition to normal wife and mommy stuff, my most important and favorite jobs. So, I am giving myself grace and some slack, while trying to make healthy changes along the way.
Perhaps you are overwhelmed like me with life and you are having a hard time getting through the book or learning the plan. It is necessary to read the book because it won't make sense if you skip around. Trust me, I know. I tried.
Thank goodness for the Build A Menu Plan designed especially for Trim Healthy Mama users. 
The easiest place to start is with Good Girl Moon Shine.  I wonder why I waited so long to try it. It is DELICIOUS and REFRESHING and packs a healthy punch. Seriously. This is a recipe posted by the authors on the forum and facebook page.
This picture was my reaction: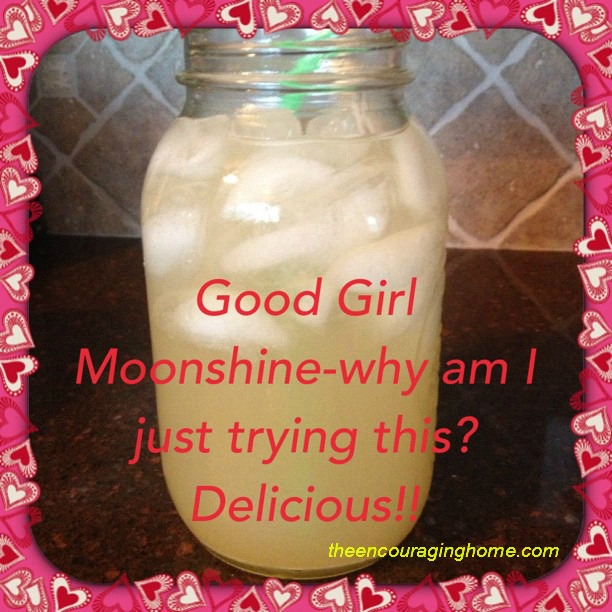 I enjoy this recipe daily and share it with others. Yummy, refreshing, and a nice help for my sweet tooth. Plus, it is packed full of health benefits and is a nice substitute for sugary drinks.
So, how do you make this drink?
Good Girl Moon Shine

•Fill a quart sized jar with water and ice.
 •Add  1 -2 Tablespoons of raw apple cider vinegar. I use Braggs.
•Add 1 tsp of  ginger powder, fresh ginger root or a few drop of ginger essential oil to taste
 •Add a few shakes of Nustevia Pure Extract Powder to taste. I only  use 3-4 shakes because I don't like things too sweet but you can play with  sweetness and try more. If you use Truvia – try 3-5 tsp.  I prefer to use liquid stevia.
There are other things you can do…add lemon, lime, essential oils, berries, vanilla…there are tons of possibilities to make many different drinks.
I add Ningxia Red to mine to up the health benefit and give me lots of energy.

Wondering about the health benefits of this drink? Here is information from the author (you can find that here)….
"Since I (Serene, coauthor of THM) have been enjoying such copious amounts of my new favorite drink, I decided to do some studies about ginger. What do you know? I read that ginger actually dulls the appetite. But, I noticed this first hand before I even read this merit of ginger. Ginger heats up the thermogenic temperature of the body the metabolism which gives a double punch alongside apple cider vinegar's own weight loss talents.
. . . Ginger is a potent digestive aid and fires up the digestive juices. It improves the absorption and assimilation of essential nutrients in the body. . . . Ginger is a wonderful immune stimulant along with apple cider vinegar. Ginger is up at the top of the list with anti-inflammatory supplements.
Here are just some of the goodies Apple Cider Vinegar offers you:
•It is abundant in potassium which is imperative for growth and building muscles, the transmission of nerve impulses, heart activity and preventing brittle teeth and hair loss.
•It encourages weight loss by breaking down fats to be used instead of stored in your adipose tissue.
•It is loaded with acetic acid which slows the digestion of starch and lowers the rise in glucose levels that occur post mealtime.
•It is anti-viral, anti-fungal, and anti-bacterial due to its high levels of malic acid.
•It is super alkalinizing though being rich in ash.
•It lowers bad cholesterol and helps to regulate blood pressure.
•It is a powerful detox tool and improves bowel function
•It clarifies the skin
•New research reveals it shows strength in killing cancer cells or slowing their growth.
Hey if you hate ginger – no worries. Just leave it out. Add a few drops of your favorite edible young living essential oils like sweet orange or lemon. You could also add natural flavor extracts like maple flavoring etc."
See, amazing!!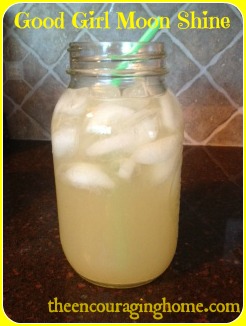 If you are interested in learning more about the Trim Health Mama way of eating…check out their website.  You can also find a lot of support in their Facebook Group. 
Need more recipes? Check out:

Baked Sweet Potatoes and Apples

Also linked up here