Pumpkins, cinnamon, nutmeg,  baking.  Yummy.  My oldest son and I decided to make something with pumpkin and baked cookies. What a special way to spend time together talking and working on math at the same time?   I enjoy working with my children in the kitchen-cooking and cleaning.   The boys enjoy the cooking part better. 🙂
They are delicious.  Not overly healthy, but I will work on making this recipe healthier later.  I used unbleached flour and organic cane sugar or stevia to make it a little healthier.  They have a mild flavor and not very sweet, but yummy.  They passed the taste test in this family and with my parents.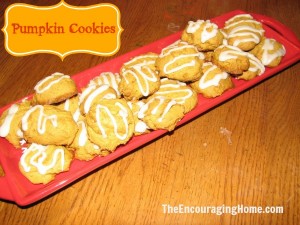 Pumpkin Cookies
Ingredients:
2 1/2 cups all-purpose flour 

1 teaspoon baking soda

1 teaspoon baking powder

1 teaspoon ground cinnamon

1/2 teaspoon ground nutmeg 

1/2 teaspoon salt

1 1/2 cups granulated sugar or stevia 

1/2 cup butter (1 stick), softened

1 cup p

umpkin puree

1 large egg

1 teaspoon vanilla extract

Glaze (recipe follows)
Preheat  oven to 350° F and grease baking sheets.
Mix all dry  ingredients in a bowl.
Beat sugar and butter in large mixer bowl until well blended. Beat in pumpkin, egg and vanilla extract until smooth. Slowly add in flour mixture.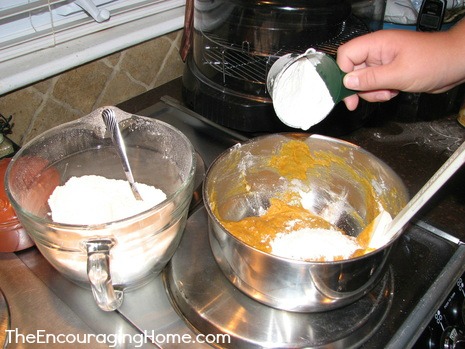 Oldest son adding flour mixture to pumpkin mix. I didn't drag out the big mixer…I recommend doing that. Our arms got a workout. stirring 🙂
Drop by rounded tablespoon onto prepared baking sheets.
BAKE for 15 to 18 minutes. Cool on baking sheets and put on wire racks to cool. Drizzle Glaze over cookies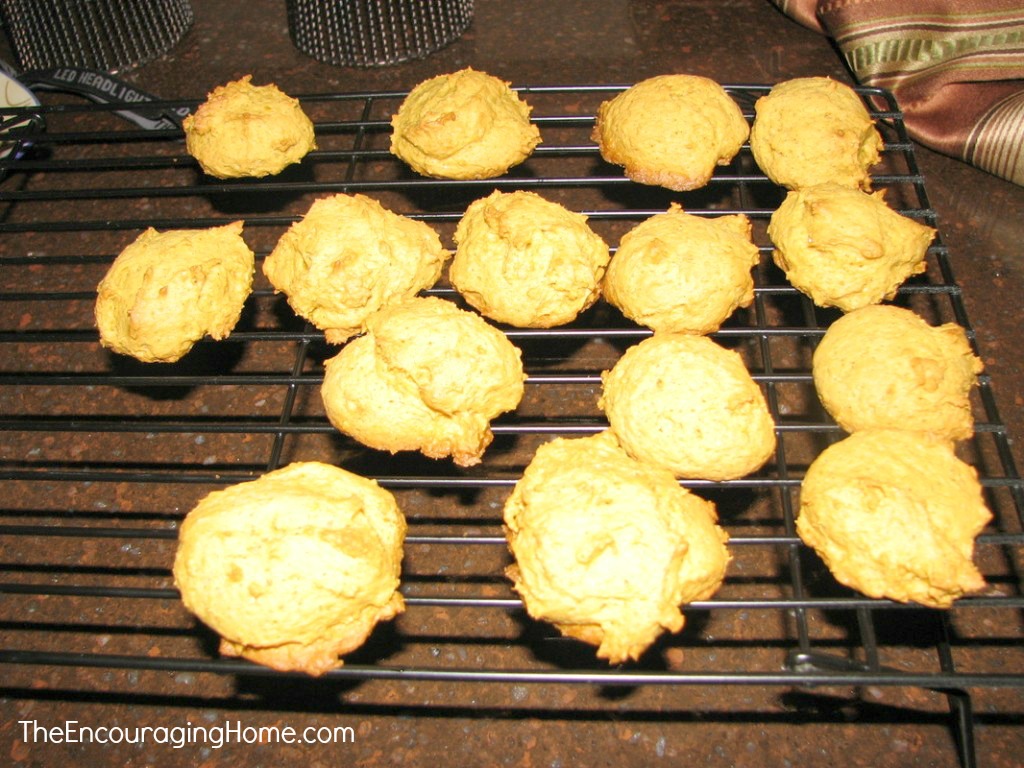 GLAZE:
 Combine 2 cups sifted powdered sugar, 3 tablespoons milk, 1 tablespoon melted butter and 1 teaspoon vanilla extract in small bowl until smooth.  I put it in a ziploc bag and cut the tip off to do the glaze.
Serve them on a pretty plate.  I obviously should do this more often, because they wanted to know who was getting these. 🙁 
I haven't done a great job this year making more than break and bake cookies and leaving them on the sheet.  I'm doing better and want my family to know how much I cherish them.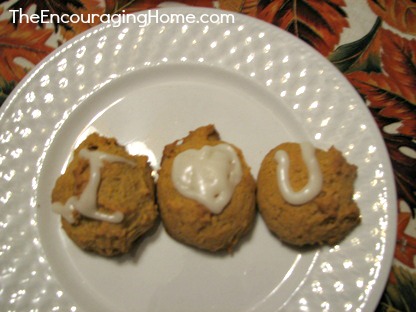 Send your family a special message of love and cherishing in the little things you do!
I hope you enjoy these if you try them. 
What are some of your favorite recipes to show your family how special they are to you? Please share your recipe!!
Mary

I'm linking up with:The Humbled Homemaker, I {heart} Naptime Sundae Scoop, Tatertots and Jello, TidyMom,  Lollipops, Homestead Barn Hop, Sweets This Week, Simple