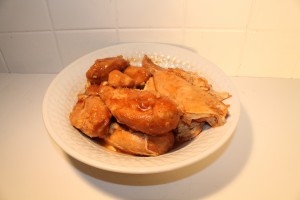 I love easy meals.  I love my crockpot.  One of my favorite easy meals is Crockpot Barbecue Chicken.
What you need:
Chicken~ I like to use boneless, skinless chicken breast when I find it on sale, but anything works. You can start with frozen chicken if you start early enough.

Barbecue Sauce~ It is hard to find a sauce that does not have high fructose corn syrup in it. Bob Evans's Barbecue Sauce does not have it in it.  I haven't tried making my own barbecue sauce yet.  How about you?

Water~ Add enough to cover the chicken.
Cook on low 10-12 hours or high for 4-6 hours. Stir occasionally.  You may need to add water or more sauce.  The chicken is tender and just falls apart.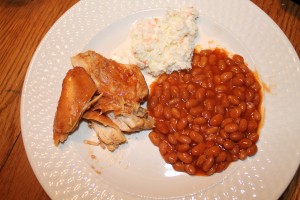 I like to serve it with baked beans and cole slaw.  This is one of our favorite meals and I always try to have what I need on hand.
There you have it~ quick and easy. Quick and easy to throw in the crockpot.  You just have to be patient while it cooks.

Do you have an easy meal that you like to prepare?
Have a great day!
Mary
I'm linking up with: Raising Arrows,Modest Mom,Sunday School Blog Carnival, Weekend Whatever, Comfy in the Kitchen, Little Natural Cottage, Domestically Divine, Tasty Tuesday, Traditional  Tuesday, Fat  Tuesday, Women Living  Well, Healthy 2Day  Wednesdays, Simple Lives  Thursday, Pennywise  Platter, Live  Renewed, Fight Back  Friday, Living  Well Blog Hop, Growing Home, Raising  Homemakers, Frugally  Sustainable, Deep Roots at  Home,  The Better  Mom, Monday  Mania, Real Food  101, These Five of Mine PLUS TWO,  The Straightened Path, Homestead Revival,  The Modest Mom,  Homemaker by Choice, Proverbs 31 Thursday, Our Simple Country Life, Around My Family Table