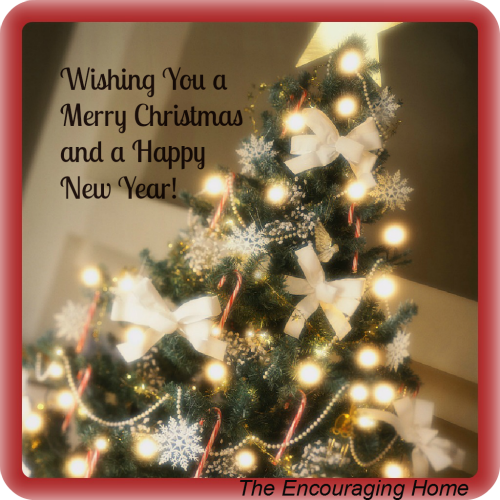 Merry Christmas! I hope you have a wonderful one! Thank you so much for being part of our community here. I love engaging with you on facebook and through comments here on the blog. You have been a blessing in my life.
I pray that you have a wonderful time with your family and for your safety if traveling. I am also praying for those of you who are going through trials during this holiday season.
Please remember those in prayer who have suffered great loss recently. There has been so much sadness and pain. Perhaps this is the first Christmas after a loved one has died. Look for ways to brighten someone's day…start with a smile.
On Christmas morning, we enjoy a Sausage and Egg Breakfast Casserole. It is super easy and can be prepared the night before.  If you run out of time, it is also yummy when prepared in the morning before putting in the oven.
We also enjoy this punch that changes names with each holiday…it is Christmas punch right now.
Christmas Punch:
2/3 cup Tang
1 cup Cranberry Juice
1 cup Pineapple Juice
1/2 cup sugar
1 quart Ginger Ale
Mix in a container and serve in something pretty.
Need a simple side dish? Try this Easy Vegetable Casserole:
Vegetable Casserole:
1 bag California Blend Vegetables (in the frozen section) ~ cook & drain (or not~ I forgot to cook the veggies one time and just baked the dish in the oven, starting with frozen vegetables. It was just as good)
Cheese~ whatever kind you like or use
Ritz Crackers ~ crushed
1 stick of butter ~ melted
Spray a casserole dish (size depends on size of bag of vegetables you buy).
Cook and drain vegetables. Place vegetables on bottom on dish and cover with cheese.
Cover with crushed crackers and pour melted butter on top. Or mix crackers and butter together first.
Bake for 20-30 minutes at 350 degrees or until crackers are brown and cheese is melted.
Still out facing the crowds and need some stocking stuffer ideas? Here you go.
I look forward to hearing about your Christmas memories and to a wonderful 2013 with you.