I  am heading to the Allume Conference and looking forward to having an amazing time…meeting new friends, being inspired and encouraged. Learning how to be a better wife, mom and blogger. Learning how to balance and not overlook what is most important. I look forward to sharing some of what I have learned with you and pictures of the amazing people I have met! It is hard leaving my family, but know they are in good hands and going to have a special time.
I am thankful to my sponsors, Scripture Lullabies and T-Tapp for making this possible.
Today, we are having a giveaway from Scripture Lullabies. Check back tomorrow for a giveaway from T-Tapp!

Scripture Lullabies provides beautiful, meaningful music for all ages…not just babies. We love listening to it at our house or on the road. I love playing music that has a message. Soothing music with words that are filling our hearts with truth. Powerfully peaceful music for all ages…not just babies. We love to especially play it at night…it helps us rest better,  and it also fills our home with truth during the dark of the night.
There are lots of stories on the site about how this music has touched and changed lives.  Scripture Lullabies donates a portion of sales to Pregnancy Resource Centers.
You can listen to a part of the songs, download a free song, purchase a cd or digital download, gift a digital download to someone via a beautiful card. They have accompaniment tracks or instrumentals. You even get a code with your purchase for bonus lullabies. They have something for everyone.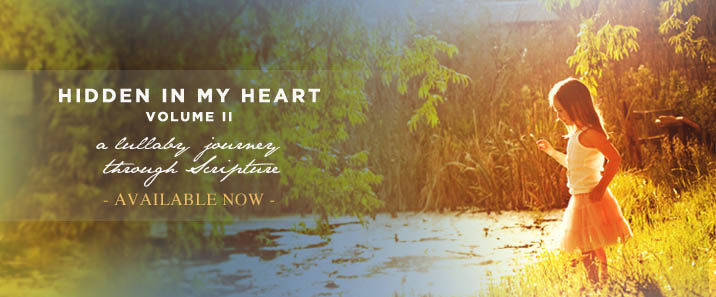 Enter the giveaway using the form below to win Hidden in my Heart  Volume 1 or 2 . You can choose a cd or a digital download.
Visit Scripture Lullabies for a free song download. Ready to buy? Christmas shopping or for baby showers? Use code SL2011 to save 15%.  Think of how many lives you could touch with music. Are you a blogger? Email Kimber@Scripture_Lullabies.com to ask about a giveaway for your blog. Tell them I sent you!