It is finally here! 17 of us have been working on this project for several months and we are pleased to bring you The Pursuit of Motherhood. We share a love of home and family, as well as a love for you, our readers, and helping to improve your lives an help you in your struggles.
It is a book written by moms, for moms. Each of us sharing our stories of where we are and where we have been. Joys, struggles, and our passion for pursuing motherhood. Whether you are a stay at home mom or a working mom, we have something for you.
Written by moms at different stages in life and on all aspects of motherhood, there will certainly be several chapters that speak to you, right where you are in this present moment.
We share our hearts with you.  Because motherhood is not easy. It is a challenge and your wonder what in the world you are doing and how bad you are messing up your children.
Because some days you feel as though you have no clue and want to crawl in bed and pull up the covers.
Motherhood often feels like a solo job ~ that no one else understands all the things you do on a daily basis. We do understand. We have been there. We are here right now and face uncertainty too.
We have a vision for our homes and our children, but the reality of the days often cause us to lose focus. We hope to help you reclaim that focus, as well as give you practical tips as you do your day to day job that is so important.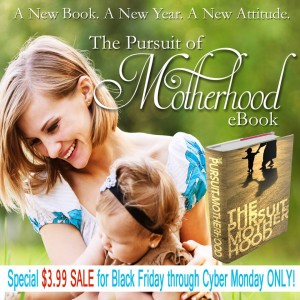 *The sale is now over, but you can still grab your copy for just $7.99!
I wrote 3 chapters:
The Healthy Mom ~ encouraging you to stay healthy so you can be able to care for your little ones. I also address some health issues that I have faced and struggle with.
The Work at Home Mom ~ I am a stay at home mom that also works from home on our farm and my blog and online business. It is a challenge and a struggle to know how to balance it and to always keep my family first.
Primary & Secondary Infertility ~ This is an area of great struggle for so many and one that I have walked. It is not an easy road and many do not understand it. I pray that this will help you in your journey that is so very difficult.
Get your copy today at the introductory price of $3.99…they is 50% off for just a few days!  Now for regular sale, and still for a great price – $7.99!
To celebrate the book release, I am having a fun giveaway for you (then head over to check out all the Black Friday Deals, including the Healthy Bundle deal starting at 8am!}
One PDF copy of The Pursuit of Motherhood ( if you purchase it and win, I will refund your money via paypal or you may want to gift the copy you won)
One PDF copy of Essential Chefs: A Beginner's Guide to Using Essential Oils in Your Kitchen. This is my other ebook that is a good introduction to essential oils in your home and kitchen.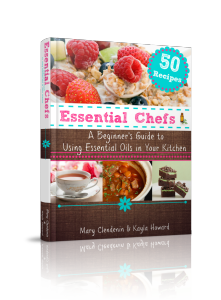 Stress Away Roll On and 28 Ways to Use Stress Away PDF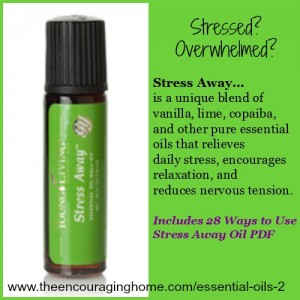 If the Rafflecopter is not showing, click the words to enter below.