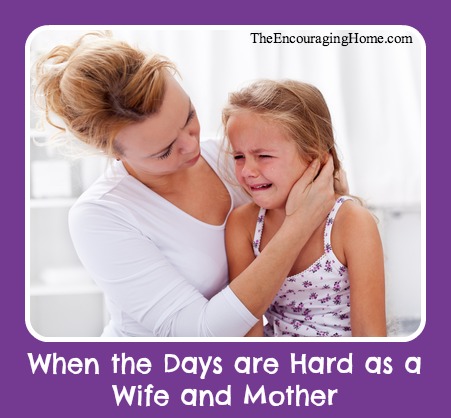 Motherhood…such an amazing job! Such an awesome responsibility!! Overwhelm, guilt, fear, incredible love..how can all those emotions be present at the same time.  They can all be found in the heart of a mother, along with many more.
Being a mom is a journey that will change you life like none other. You grow up, mature, discover things about yourself that you never one was possible, feel emotions deep inside that you never knew were there. You can feel such deep love and sometimes deep anger all from within your being.
What an experience!
Often, moms feel like complete failures. I know I do. Many times. How am I messing up my precious children that are gifts from God? What will they remember about their childhood and me as their mom?
So when the days are hard as a wife and mother, here is some encouragement for you:
1. How are Your Taking Care of You?
I know this sounds crazy to most moms. But I learned a hard lesson this past December on what happens when you don't take care of yourself. I was so very sick because I was burning the candle at both ends and not doing the things I knew I should be doing to keep myself healthy. Quite ironic, as I help people stay healthy. I am still paying for my stressful season. 
Moms, you have to care for you so you can care for your family…your little blessings!
I wrote some practical tips in this post on Taking Care of Mom. You will be a better mom if you do.
2. Check Your Priorities
Where do you focus your time? What is most important? What do you reach for when you get out of bed? Your iphone or your Bible? (talking to myself here)
[tweetthis]Are we concerned more for molding our little ones' hearts or making a name in the world?[/tweetthis]
Keep growing in your faith and seeking the Lord. He will never leave you or forsake you. We are the ones that move away from Him. Make time with God a priority every day. And when your best laid plans fall apart, just pick up and start again.
3. Work on Your Marriage
Your marriage needs to be a priority. We are all in different situations and go through different seasons. When your children are younger, you feel that you have time for nothing else but keeping them clean and fed and out of danger.
I remember those days. When you are so exhausted, it is tempting to put your marriage on the back burner. It is so important to take time to bond and be together with your best friend who was there before you had children and will be there after they leave. You are a team. Keep growing in love and friendship…it can be better than you ever imagined. It is hard work, but so worth it. Marriage...don't ever quit believing in it. 
4. Renew Your Vision for Your Family
When you got married or before you had children, you had an idea of what you wanted and dreamed it to be. And you were not going to have a marriage or family like other people you knew. You would be different. Then, life happens and things get muddled.  We got all turned around under the pressure and demands of life and the world and we aren't sure which way to go.
Go back to the basics. How do you want your family to be? What vision did you start out with? Does it need to be tweaked for the betterment of your family?
You are raising men and women, not just children. They are growing up and will have an impact of future generations. You are sending ambassadors out into the world. Let go of what really doesn't matter and get back to the heart of your family. We have enough regrets along the way, so do the best you can while you have the chance
5. Embrace Your Role as a Wife and Mother
Many women would give anything for where you are. There was a time I would have. I was convinced I would be an unmarried school teacher all my life and we were told we would never have children. But in the midst of life, it is easy to forget those times. You are very blessed. Overwhelmed and busy, but very blessed. If you have not yet married or have not become a mother, you are no less blessed, just in a different season or stage in life.
It is a great ministry that you have. Embrace it, live it well. Love your family well. Cherish every moment. Make everyday special, for we never know when the opportunity will no longer be there.
6. Get Help
It is okay to say I need help and you are better off when you realize that you are not called to do this journey alone. It is better to not try to do the Supermom thing and end up in complete overwhelm. That makes life tough on everyone.
You can reach out to other moms, older women that you know or get help from other moms from the comfort of your home. That is mostly what I do at this stage in my life. Some of my favorite resources include ~ well, I have a lot of favorites, but I want to include some new ones for you:
This is so important to me that I wrote a book about it, The Cherished Home: Protecting What's Important.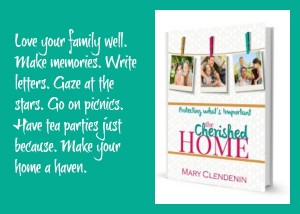 Here are some other ebooks that you might enjoy: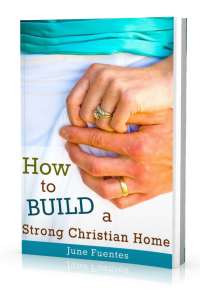 How to Build a Strong Christian Home by June Fuentes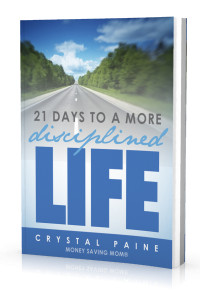 21 Days to a More Disciplined Life by Crystal Paine
Equipped: Because You've Been Made to Live On Purpose by Elisa Pulliam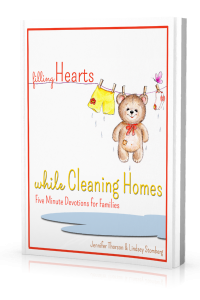 Filling Hearts While Cleaning Homes: Five Minute Devotions for Families by Jenn Thorson & Lindsey Stomberg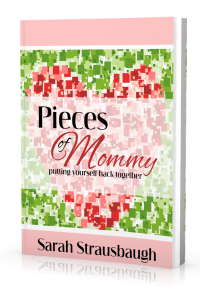 Pieces of Mommy: Putting Yourself Back Together by Sarah  Strausbaugh
Each of these resources will help you get on the right track for your home and family. There are so many more that I could share with you!! We all need a little help along the way.
This post contains affiliate links.