Peppermint Essential Oil…I love it! So cool and refreshing and it has so many uses!
Introducing….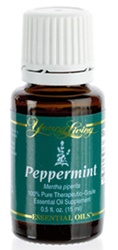 Peppermint has a strong, fresh minty aroma…it is invigorating!  It is one of the oldest and most highly regarded oils for soothing digestion. It has also been widely studied for potential health benefits and ability to enhance mental acuity.
This Peppermint Oil is therapeutic grade and is highly concentrated and powerful. One drop of Peppermint Oil is equal to 28 cups of Peppermint Tea!!
I love to put ONE DROP in a bottle of water to aid digestion, have a refreshing drink and boost my immune system.
Note: Some people may be sensitve to Peppermint on their skin. Just dilute with a carrier oil…coconut, olive, or V-6.  If you get it in your eye. Always dilute with children. DO NOT RINSE WITH WATER.  Oils and Water do not mix. Use a carrier oil or just close your eyes to allow the natural lubricants to work.
Peppermint is great for so many things!
Digestion
Nausea
Stomach Aches
Fevers
Respiratory Health
Stress
Flavor Water
Immune Boosting
Cooling and refreshing
Suggested Use for Peppermint Oil
Dietary: Add 1 drop to a glass of water, tea, or coffee to increase flavor or calm digestive upset. Add a few drops into an empty capsule and swallow.
Topical: Apply 1 drop to area of pain on body. Add a carrier oil (see abovie) if sensation is too warm or if skin is sensitive. Never apply oil to a fresh wound or burn.
Aromatic: Diffuse up to 1 hour 3 times daily or inhale directly for aromatherapy.  Put several drops in a spray bottle with purified water and spritz the room.
You can mix a 15-ml bottle of peppermint essential oil into a 5-gallon can of paint to dispel the fumes.
Other uses:
Inhale to clear the sinuses
Add a drop of peppermint essential oil to herbal tea to help aid normal digestion.Massage several drops of peppermint essential oil on the abdomen, place a drop on wrists, or inhale to soothe the minor stomach discomfort associated with travel.
Rub one drop of peppermint essential oil on the temples, forehead, over the sinuses (careful to avoid contact with your eyes), and on the back of the neck to relieve head pressure.
Place 2 drops of peppermint essential oil on the tongue and rub another drop of oil under the nose to help improve concentration and alertness.
Apply peppermint essential oil to the back of the neck and shoulders throughout the day to keep energy up.
Inhale peppermint essential oil, apply topically to your temples or neck, or put a drop on your tongue or in water to jump-start your morning routine.
Diffuse or inhale peppermint essential oil mid-morning to curb the desire to snack.
Inhale peppermint essential oil or rub a drop on to your abdomen to soothe minor stomach discomfort.
Dowload your free mp3 about essential oils here.