Essential Rewards… sometimes seems a little scary. But it isn't… it is a FUN way to shop from your own store at wholesale prices and earn points when you do. What stores let you buy at wholesale and give you points to spend later? Plus, you are getting TOP quality products!!
We do transfer buying in our home. We started out just with oils, then the oil – infused supplements, then moved to the Thieves Cleaner and personal care products and much more. Most of what we use in our home we buy through our own store at wholesale and get bonus points and free gifts while doing it. And we are confident that we are buying the best, chemical free items for our family. 
Give it at try. Your body and finances with thank you.
What is the Essential Rewards Program?
Optional program for those who want to order product monthly

You can change the product every month, as well as change the date as needed

Discounting on exclusive product packages

Reduced Shipping Rates & Preferential order filling

ER Points redeemable for FREE product ~you just pay the shipping!

Qualified for additional bonuses and commissions

There is a $50 minimum order for this program 

You can cancel at any time ~ ALWAYS redeem your points first!
What are Essential Reward Points?
You earn these every month you order on Essential Rewards

The first 3 months you will earn 10% of your order pv in ER points

Months 4-24  you will earn 20% of your order pv in ER points

Month 25 and on you will receive 25% of your order pv in ER points

You can view your points in your back office

You can redeem up to 350 points at one time and you only pay shipping

Points will expire 12 months from when you earned them

I like to keep points building so if I need product shipped fast, it doesn't hurt too bad in the wallet

Now you get FREE Gifts at months 3, 6, 9, 12 and each anniversary after month.
When is the Best Time to Sign Up?
If you are ordering regularly or replacing the products in your home for non-toxic products, you should get on Essential Rewards. If you are ordering $50 on an order, you are missing out on Essential Reward Points and bonuses!!  If you decide to get started on Essential Rewards during your first month and stay on it for 3 months, I will send you a diffuser! You can't have too many diffusers. We have one in each room of our home. You can read more about the special offer here.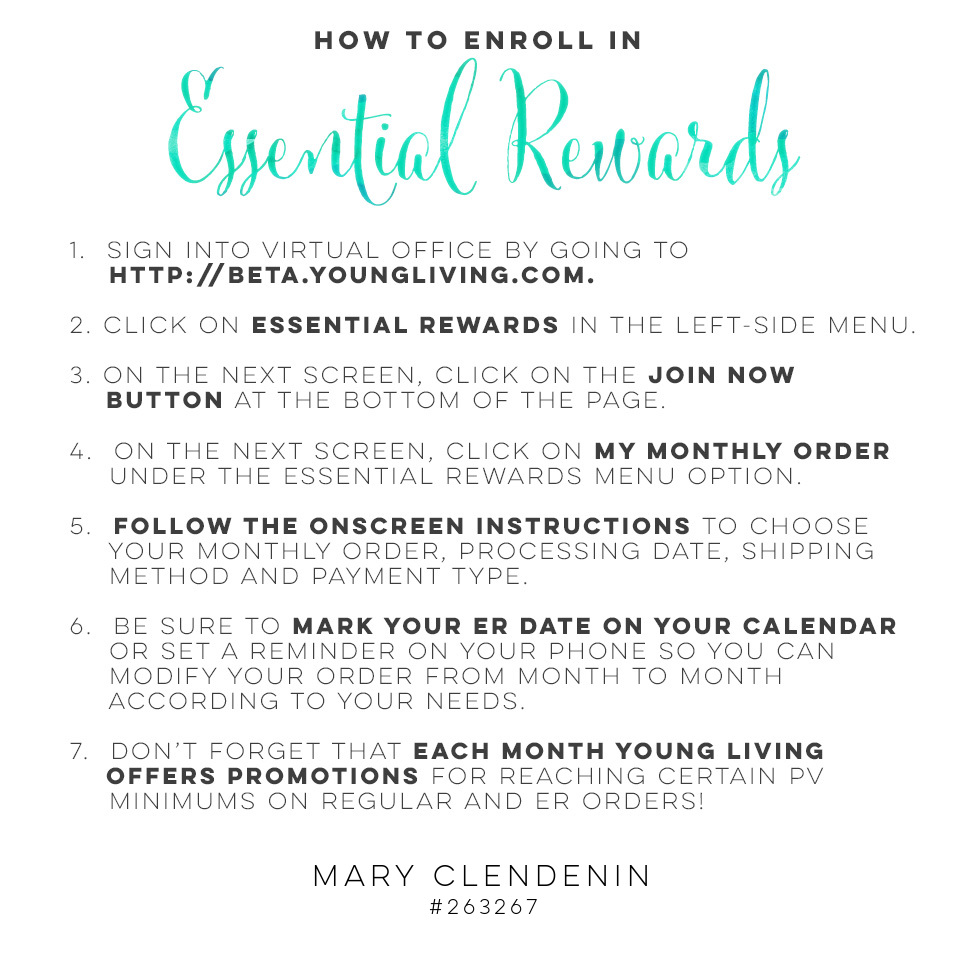 How to Sign Up for Essential Rewards:
You must have a wholesale account (not retail customer account) to sign up for Essential Rewards. Don't have one yet? Get started here.

To sign up for Essential Rewards, go to your back office at www.youngliving.org

Click on "Essential Rewards" in the left column

Enter all your shipping information, payment method

Add at least 50pv in product to complete the sign-up process

100pv is the minimum to build a business to receive bonuses and commissions

Check your order PV total – NOT the DOLLAR total. You need at least 50pv, but you may need 100pv for bonuses or 190pv to get the monthly special.

You have until midnight the night of your order to change product, but it is recommend NOT to wait that long
 Here is a video showing how to sign up and manage your order:
How to Redeem Your Essential Rewards Points:
The fun part is redeeming your points and getting free product and you only paying shipping! You can redeem your Essential Rewards points for free product, from your Virtual Office.  Your points are exchanged for the PV of an item.  This video will show you how to redeem your Essential Rewards points:
 *Note: If you are building a business I recommend you get on Essential Rewards with at least 100pv each month. This will be covered later, but this will give you all the bonuses and commissions possible.
More Info: 
Essential Rewards: http://www.youngliving.com/en_US/opportunity/essential-rewards
Essential Rewards: http://issuu.com/youngliving/docs/essential_rewards_booklet_issuu