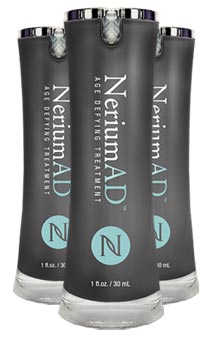 I am bringing back the $80 NO-STRINGS ATTACHED Deal (INCLUDING tax and shipping). There are 7  NOW ONLY 2 bottles available each at this deal!
HURRY!!  The 6 I had at this deal on Black Friday sold out in a flash.
 Scroll down to the end to order your bottle NOW!
Our skin~ the biggest organ of our body. Our face and neck is the first place that we usually see the aging process take place.
I was introduced to Nerium AD through T-Tapp. Teresa Tapp does not promote anything that is not high quality,  natural and highly researched.  I would have passed over this product if not for Teresa and my good friend, Kayla.
I love this product! So simple and effective! Just wash your face at night and apply Nerium.  3-4 pumps in your hand. Wet the fingertips of your other hand and stir. Apply to face, throat, hands, stretch marks…wherever! Then sleep with it on. It works as a mask. Rinse it off in the morning, apply moisturizer and then you are good to go.
So, my morning routine is: Wash face with Living Clay Face and Body Scrub, Apply either coconut oil or Rejuvenation Face Cream, ALWAYS apply a couple of drops of Frankincense and Myrhh. Then my makeup, or not.

My nighlyt routine is: Wash face with Face & Body Scrub and apply Nerium.
Simple. I like simple and healthy. I know that I am creating a layer of healthy products on my skin since I don't use natural makeup (yet).
You will love the smoothness of your skin when you wash off the product in the morning.  It will glow, be smooth, wrinkles will start shrinking and acne will be improved.
Nerium is not just for women, but men also (Men are actually some of our biggest customers!)
Our cells renew every 6 weeks, but many people report up to 30% decrease in wrinkles in 30 days.
Finally, a product that provides the satisfaction of real results with the confidence of real science. NeriumAD Age-Defying Treatment is a night cream developed from the patent-pending extract of the Nerium oleander plant. NeriumAD contains the most effective age-defying ingredients, chosen for both their individual and synergistic benefits. These premium ingredients are blended at optimum levels to nourish your skin and provide real results.
Third-party clinical trials show that NeriumAD dramatically reduces the appearance of:
Fine Lines and Wrinkles
Discoloration
Uneven Skin Texture
Enlarged Pores
Aging Skin
*MADE IN THE USA!
Want to learn more or buy it now? Go here.
FAQ About NeriumAD
How long does a bottle last? A bottle of NeriumAd is designed to last 30 days.  However, I've heard of several people making it last 6-8 weeks when only using it on their face.  My bottle will last closer to the 3-4 week mark because will use it on some old stretch marks in addition to my face and neck. I am also going to try to tighten skin on my legs.
What does it actually cost, I can't really figure that out? Hey, I totally get that! I was seriously confused the first time I went to the site.  Here is the bottom line:
You have three options for buying NeriumAD.
#1 you can purchase it as a one time purchase whenever you like for retail of $110.
#2 You may get it for $80 per bottle as a preferred customer and you will receive one bottle per month.  You will also have the option at this level to get your bottle FREE when 3 people start using NeriumAD because they heard about it from you.
#3 You can actually build a business with NeriumAD.  This is truly a great opportunity to market a fantastic natural product. The company is quite young, but structured solidly.  This is the perfect time to start building a home-based business.
What are the ingredients? You can find a list here!
Where do I buy NeriumAD? You can buy it right here. Just choose one of the options talked about above.
What if it does not work…can I return it? NeriumAD has a 30 day money back guarantee!  Yes, you absolutely can return it but they only have a 1% rate of return which means, almost everyone is really happy with the results they get.
Do you have pictures of what it actually does? Yes, pictures are coming soon to my story page!
Learn how to become a "Brand Partner" and  receive product for FREE Get Started here
Want to try this at the No Strings Attached Deal?? Hurry! Started out with 7 and only 2 left!!
 Just want a sample to see how you like it?