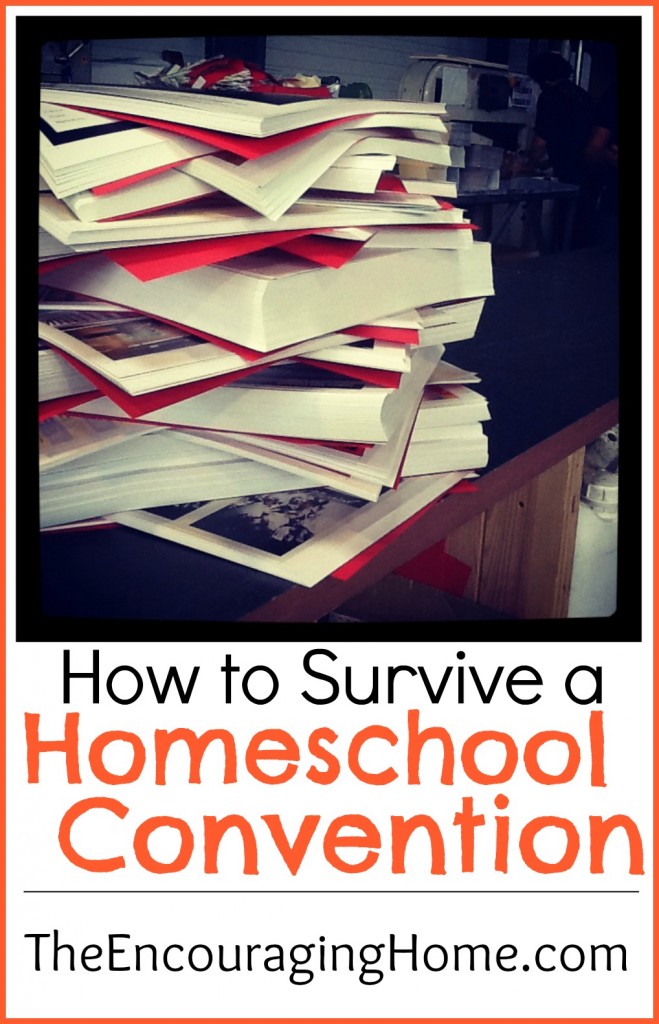 I remember my first homeschool convention as a teenager…it was in a small room at a hotel. Actually, the lobby. It was really just a book fair. There used to be only one or two companies that would sell to homeschool families. You could be finished looking in a few minutes. Now, there are so many companies that it takes a long time to look through materials. It blows my mind sometimes how huge a conference has grown from all those years ago. It is great to see how many people want to educate their children at home and how many companies are working with that.
And to see how many books there are available to us now. I love books!  I wish I had a huge library to store all my books. Really…books are ALL over my house.
I never get to attend the speaker sessions. I want to, but here has been some reason every year I can't do that, usually due to the busyness of the season on the farm. That is okay. I can always purchase the session cds if I want a particular speaker or subject.
A lot of people enjoy going as a family and many homeschool conventions have children's programs. Great Homeschool Conventions have a kids' track and a teens' track. There are usually lots of activities. Many make a weekend out of it. We only live 45 minutes away, which is nice since we just get to go for the book fair. Some moms have a girls' weekend with friends.
It is nice to see families together and well-behaved children walking around with their parents. You see lots of teens helping with the booths and sometimes their maturity will shock you since that is generally not what you see at most places.
My kids love to go with me to the HomeSchool Book fair. They have the past several years. They save their money for things they want. They especially enjoy the science booths where they find things on rocks, birds and volcanoes. They have their eye on a certain microscope. I enjoy having them with me and we look forward to it each year. They usually carry their back pack to put their purchases.
I did not take my kids when they were younger. It was much easier for me to concentrate and focus and they would have been bored and get worn out. It is a lot of walking and a lot of people. It is easier when they are in a stroller or a carrier or a little older. There is a time in the middle that it is easier to go alone. Some people get aggravated that people bring their kids and some conferences do not allow children under 13. It is frustrating if children are running around uncontrolled. But that is one nice thing you don't usually see with home school families.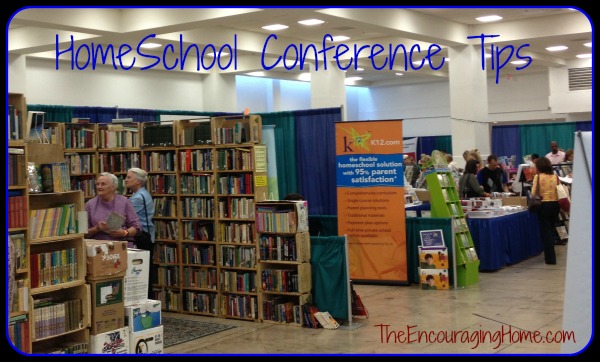 Going to a homeschool conference can be overwhelming…especially if it is one of your first times experiencing it. The sheer volume of people and choices of curriculum and workshops can send you into overload and overwhelm mode. Here are some tips for you:
Register early: You can usually get a discount if you register early. Many times there are options, such as complete conference or book fair only. Plus, there is a really long line when you register on – site.
Book a room early if staying the weekend. Hotels fill up fast around the area.
You need to have a plan: If you are able to hear the speakers, look at the schedule before the conference so you are not spending time trying to decide while there. Check out the vendor map for the book fair and have an idea of the ones you want to check out.
Wear comfortable shoes: You need to do this. You can be cute and comfortable, but if you just have one choice…choose comfortable. It is a lot of walking.
Bring a jacket: It may be warm outside, but rooms often get chilly.
Take something to carry your purchases: Unless you have a will power of steel, you will buy stuff. And the plastic bags don't hold up too well. Some vendors have stronger bags, but we take a backpack or a rolling cart to put things in.
Take some snacks and water: It is tiring to be around a lot of people and searching for curriculum and trying to make decisions. And soaking up information from the speakers is great but tiring also. Take something to munch on for energy. This year our convention had water in the book fair area…it was nice for a little break and refresher.
Have an idea of what you are going to buy: …or you will be overwhelmed. Do some research about what you are thinking about before you go to convention, unless you are just in browsing mode and plan to go home and consider your options.  It is nice to actually see the curriculums, even though you can see samples online. It just isn't the same as seeing the real thing and touching it.
Set a budget. Seriously. If you love books and get in a place with all those wonderful books, you will need self-control. So, know how much you will spend before you get there. If you have a problem in this area…use cash only.
Go with a friend or your husband. It never works with my husband's schedule but sometimes Mom will go with me. She loves books too and there are more than just reading books ~ lots of inspirational books. And history. Oh, we love history in our family. It takes us back to when we used to do this when Mom was homeschooling us ~ I was homeschooled in high school and LOVED it. Especially all the special memories we made.
Having a friend helps make it less stressed, plus they can say…" are you really going to use that? Have you seen the stack of unused curriculum on your shelf?"  Not that any of you would have that, ahem. Would you? Or is it just me?
Enjoy the sessions and take notes: You will get to listen to great speakers. Have a notebook for all of the great things you will hear so you can take notes so you can review them later. Make notes of curriculum they mention that you would like to check out.
Be flexible: Don't stress. You may change your mind while there on curriculum or speaker sessions. Go with the flow. Don't feel pressured to buy your materials that day. But then again, you might get a convention deal. Or you might want to go home and browse eBay or a local used home school book store.
Most of all, just enjoy it! Especially if you are able to attend the speaker sessions. Ask God to help you soak in what you should and just let what you don't float by, since you will be receiving SO much information and so many perspectives and opinions. Ask God to show you what is best for YOUR family at this stage of life.
Happy Homeschooling!!!
Check out other great posts and ideas here: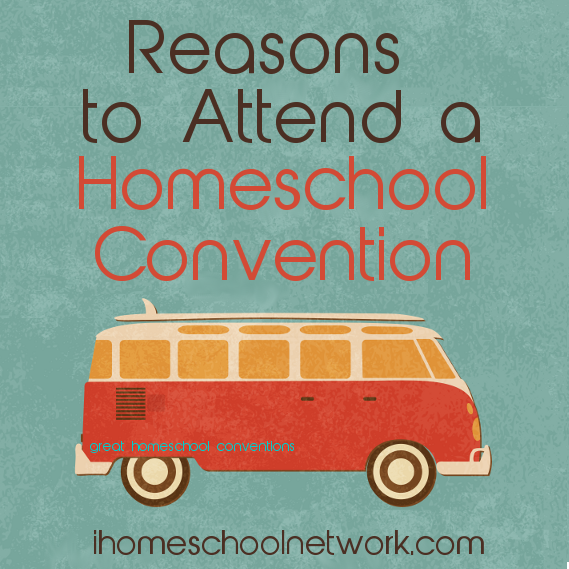 Sharing at Christian Mommy Blogger, A Mama's Story, The Modest Mom, Growing Home, Time-Warp Wife, Far Above Rubies, Walking Redeemed, A Wise Woman Builds Her Home, Raising Arrows & Raising Mighty Arrows.