A new year is here. Excited about it or not…a new year is here. Some people are thankful to put this year behind them and excited about having a fresh start. Others dread what is coming and what they will face this year.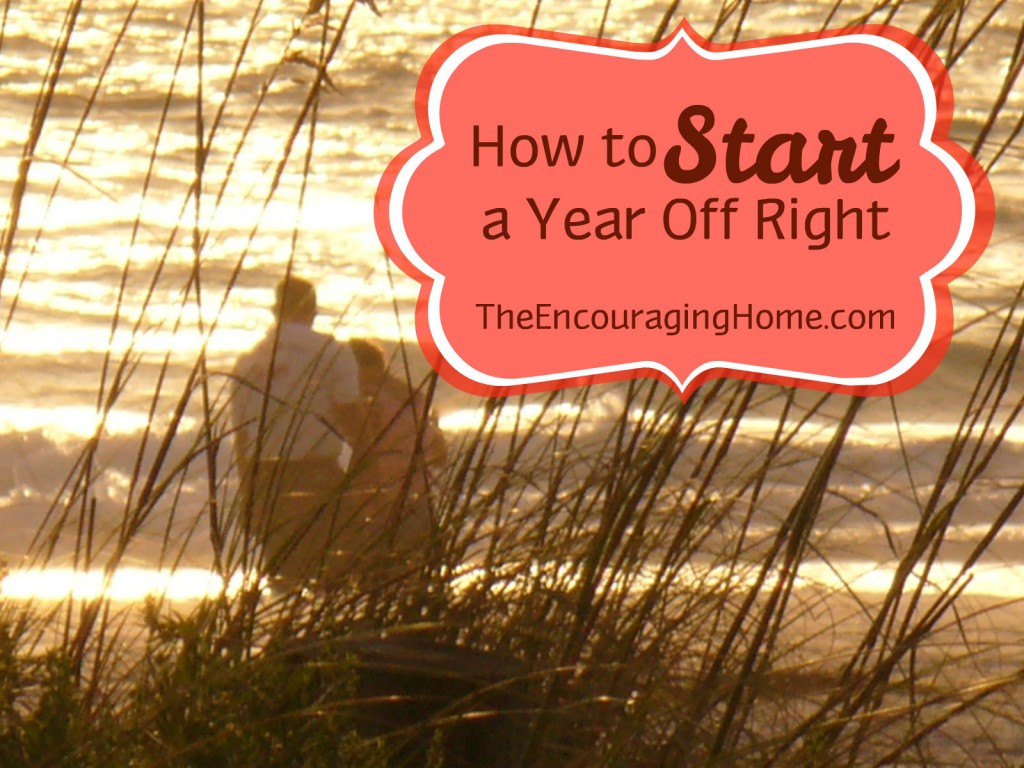 Life is hard for so many. There are hurts, job loss, broken relationships, being falsely accused of things, arguments, death, divorce, sickness, loneliness…this list goes on and on. We are hurt by others and we hurt others.
When we are wounded and hurt, we often let those wounds define us and make us into a person that we are not. Someone that we don't even recognize.
What do you do with all this that you are dealing with? How can you continue under the weight of it all?
How can you deal with the emotions that threaten to control your life and thoughts?  Thoughts that make you feel worthless and useless. That you are no good. That everyone is against you. That you have nothing to offer to anyone. How do you keep going?
You can't. You don't. You will cave under it all.
I tried. I did. Life has been hard. Difficult. Often surprised at some things and some people. Hurt rings loud and clear, drowning out the joy that we should have. Others have hurt you. You have hurt others. You have let that hurt define you.
Do we want to carry this into a new year that is full and fresh of new exciting things? Do we want to go ahead and clutter up the calendar that clean and blank….clutter it up with the baggage of the previous year?
I don't. I have before. But I don't want to do that anymore. I want to let it go and be free.
How can we start off the year fresh and start it off right?
An important step is to forgive. Forgiveness is very hard. So. Not. Easy. But it is necessary to live full and free. It is easy to hang on and let it eat a hole inside you.
Love is patient, love is kind. It does not envy, it does not boast, it is not proud. It does not dishonor others, it is not self-seeking, it is not easily angered, it keeps no record of wrongs. Love does not delight in evil but rejoices with the truth.

1 Corinthians 13:4 – 6
A good way to help do this is to write down all the hurts, the bitterness that you harbor and pray about it. Forgive the people who have hurt you.
Tear it up or burn what you have written. You have forgiven. Let it go. Don't keep digging it up out of the past.  Plus, you don't want this around to keep reading and reminding you or for others to find.
Perhaps go outside and scatter it in the wind if you burned the pages. Let it go…not to be continually thought about.
Will you remember? Yes. Forgive and forget. I don't know who came up with the forget part, but we always remember hurts. But we don't let it create emotions that rule us or bring us back to bitterness.
That part is hard….to not keep digging it up, thinking about it or as someone said…"always having loose change to pull out and use" .  When we truly forgive and pray for healing, it will get easier, but it is often difficult to not keep remembering.
Just because you forgive does not mean that you have to resume a relationship or to pick up where things left off. This, of course, depends on the level of hurt and violation that occurred. There are some instances that are not appropriate to resume. That is something that you will have to examine in your own heart and with God's guidance and direction.
We have been there and no one understands if they are not in your shoes. Godly council will help you make a good decision as well about what is appropriate for your situation and circumstances.
Forgive…don't hold bitterness and resentment. I have failed at this many times and want a fresh start. We all make mistakes and are works in progress.
It is important to be intentional in all you do. It is so easy to get distracted by all you do. There are so many things pulling at you and for your attention. Life is busy and full.
Have a vision for your life and your family. Know what your dreams are and what you would like to change. Choose to make this new year a better year.
Download this free printable to help you create a vision for your family this year. Keep it where you can look at it and review it at the end of the year.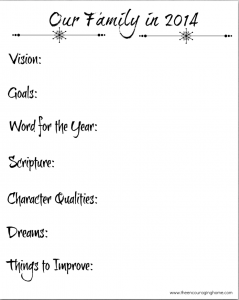 Learn to say no. That is a hard word to learn to say but when you do, you will be glad you did and wonder why you didn't before.  It is okay to say no to even good thing that comes along.  Yes, we need to serve and do for others, but when we are constantly putting that before our families, then it is time to stop and examine our lives.
Children are only little for a short while. With all that we have going on in our lives, our little ones can get easily pushed aside.  I have been guilty of this….working at home, running a business, helping with the farm, sick loved ones, dealing with trials…during those times it is easy to become overwhelmed and consumed and not really get into our children's world. They love you and really just want time with you. Some of the happiest moments for my kids are when we play hide and seek, snuggle on the couch and campout in the den.
We can't experience two opposite emotions at the same time.  If we are constantly in a state of gratitude, then we will go through life with a  joyful spirit and happier attitude.  That doesn't mean life will be simple and we won't face hardships, but it will give us a clearer outlook. It will be difficult to focus on what we are grateful for during difficult times, but it is important to make this a daily habit in our lives and to teach our children this.
Keep a journal, write down one or several things every day that you are grateful for. Make this part of your homeschooling or family routine. Everyone's attitude will be better and when times are tough, you can look back through at all God has done for you.
The LORD has done great things for us, and we are filled with joy.

Psalm 126:3
What are your plans to start off a year right and what changes do you plan to make?