Parenting…one of the most rewarding AND the most challenging jobs you will ever have.
Sally Clarkson and Sarah Mae have teamed up to bring you a
webinar
to help you. I enjoyed meeing both of these lovely ladies at Allume last year and they have a heart for moms!
Here we are last October:

Introducing their newest product to help moms…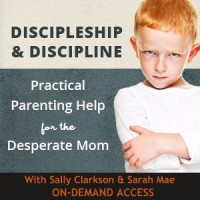 What will you learn?
Day One: Laying a Foundation of Love - Sally Clarkson
Day Two: Loving the Wild One - Sarah Mae
Day Three: Heartfelt Discipline + Your Parenting Questions Answered - Sally Clarkson
Day Four: Dealing with Our Junk So We Can Parent with Clarity -Sarah Mae
What You Will Get:
Four days of teaching & conversation with Sally Clarkson and Sarah Mae
Five daily emails with inspiration, key readings and other resources
The opportunity to ask Sally your parenting questions
My 24 Family Ways PDF Packet
The UnWired Mom eBook
Core Lies eBook
On-demand access after the live Webinar is completed (so you can watch anytime)
What Topics Will Be Covered:
How to Raise a "Wild One"
How to Instill Excellence in Your Child
How to Have a Quiet Time When There's No Quiet
How to Deal with Over-Emotional Children
How to Find a Mentor
How to Build a Winning Relationship With Your Child
How to Motivate Your Children to Listen to Your Instruction and Obey Your Training
How to Deal With Your Lies So You Can Parent in Freedom Instead of Fear
How to Get Through the Desperate Days
How to Find and Nurture Friendships with Other Moms
The entire Discipleship and Discipline e-Course is only $17.99.
We'll be tweeting during the live course using the hashtag:  #EnjoyYourBabes
*Affiliate link included*