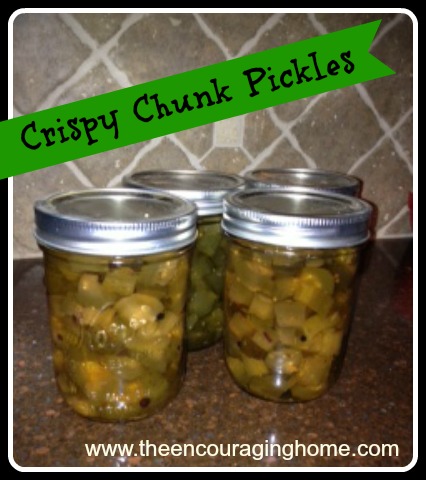 Do you like pickles? I am not that big a fan of pickles, unless they are in chicken, tuna or potato salad. My guys love dill pickles, but I have never had that great a success canning dill pickles. Now Crispy Chunk Pickles to be added to chicken salad and such…I can do!!
This is a recipe that my mom used to make. I have made this recipe for several years that my 4th grade teacher and friend, Mrs. Stroud, gave me.
I usually make enough jars to last for a couple of years. This is a time consuming recipe, but very good.
This recipe makes 4 pints.
What you will need:
Old Butter Churns or Large Glass Jars for holding the cucumbers and liquid
8 crisp cucumbers (approximately 5″) for one batch
Canning salt
Vinegar (I use Apple Cider Vinegar)
Alum
Sugar (I have not tried this recipe with a healthy alternative yet)
Mixed Pickling Spice
Jars and lids
How to Can Crispy Chunk Pickles: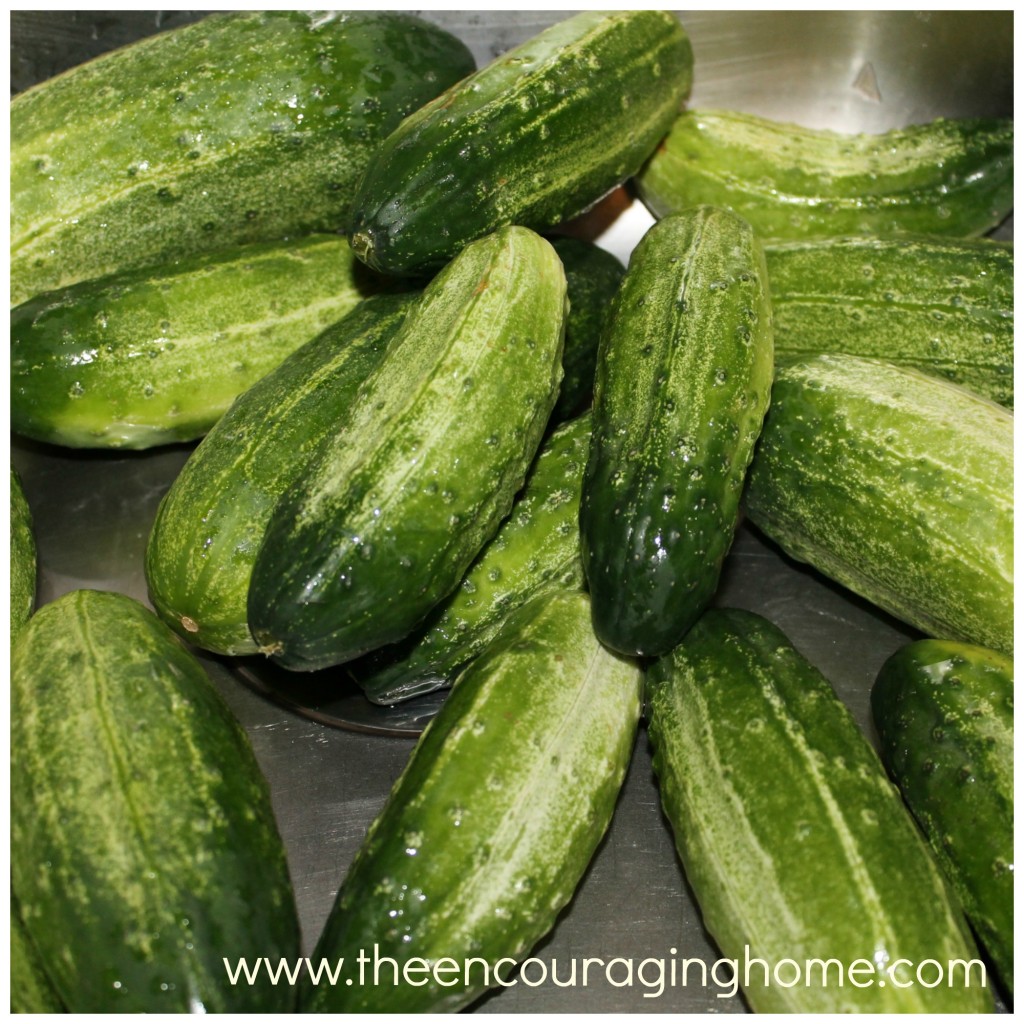 Start off with good, crisp pickling cucumbers. Wash them well.
I like to use big glass jars with a lid or old butter churns. It is also good to have a chart to go by. I usually have several batches going at once and it is easy to get confused.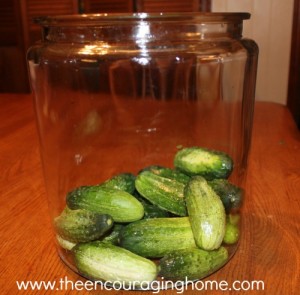 Cover pickles with a salt brine:
8 cucumbers
1/2 cup salt to each quart water
Let stand 3 days. Drain, Cover with cold water. Let stand 3 days. Each of those 3 days, drain and cover with fresh cold water.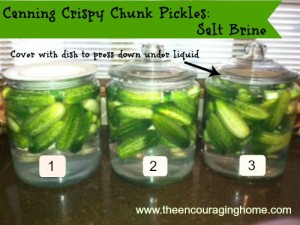 Drain and cut in 1/2″ chunks
Combine:
2 cups vinegar (I use Apple Cider Vinegar)
4 cups water
2 teaspoons alum
Heat to boiling and pour over chunks in large glass jars. Cover. Let stand for 2 days.
Drain.
Combine:
4 cups sugar
2 cups vinegar
1 teaspoon mixed pickling spices
Heat mixture to boiling and pour over pickles. Let stand for one day. Pour off liquid and heat to boiling. Pour over cucumbers.
Repeat on the 3rd day.
Put chunks in hot, sterilized jars. Leave room for liquid to pour over cucumbers.  If not enough liquid to cover pickles in jars, add hot water.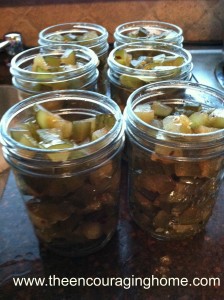 Seal the jars in hot water bath.
*If the liquid is too strong, add water and reduce.
Makes 4 pints.
*If vinegar too strong, amount may be reduced. Hot water may be added to make sufficient liquid to cover pickles in jars.
You can add some variety by adding baby onions and other vegetables.
It is nice to look in your pantry and see a lot of jars of whatever you have canned ready to use for your family or as gifts.