I am at the Allume Conference tonight…joining in a LIVE Five Minute Friday with LisaJo~  The Gypsy Mama and lots of other bloggers. It is amazing and powerful. Writing the words together and hearing the words come alive from the authors.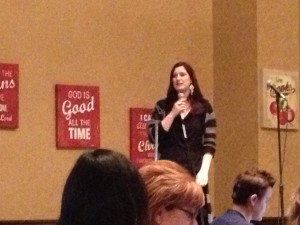 VOICE:
My voice~ used for so many things. For good, to encourage, to help. At other times, it does damage…often to the ones I love most. The ones with whom I feel most secure. Words that can never be taken back.
What an amazing thing our voice is. Imagine if it was gone. So much to say, but unable to.
Our words and voice need to be used for good. What do we have to say to encourage one another? What words can take away the burden someone else bears? What kind word can put a smile on someone's face?
Our voice can be used to impact one or many. What do we have to say that others need to hear? Do we often feel that what we have to say is not as important as someone else?  So we keep our voice to ourself, never sharing words that can touch lives.
If God gives us a platform, friends, family…we have something to say!! We may not be speaking in front of millions, but our voice can touch one hurting soul and change just one life.
In a room with many voices tonight, writing words from our heart. Our voices, joined together, can encourage, can speak loudly to the world.  Our voices together, following HIS VOICE,  can change the world…one word at a time.
Join us at: