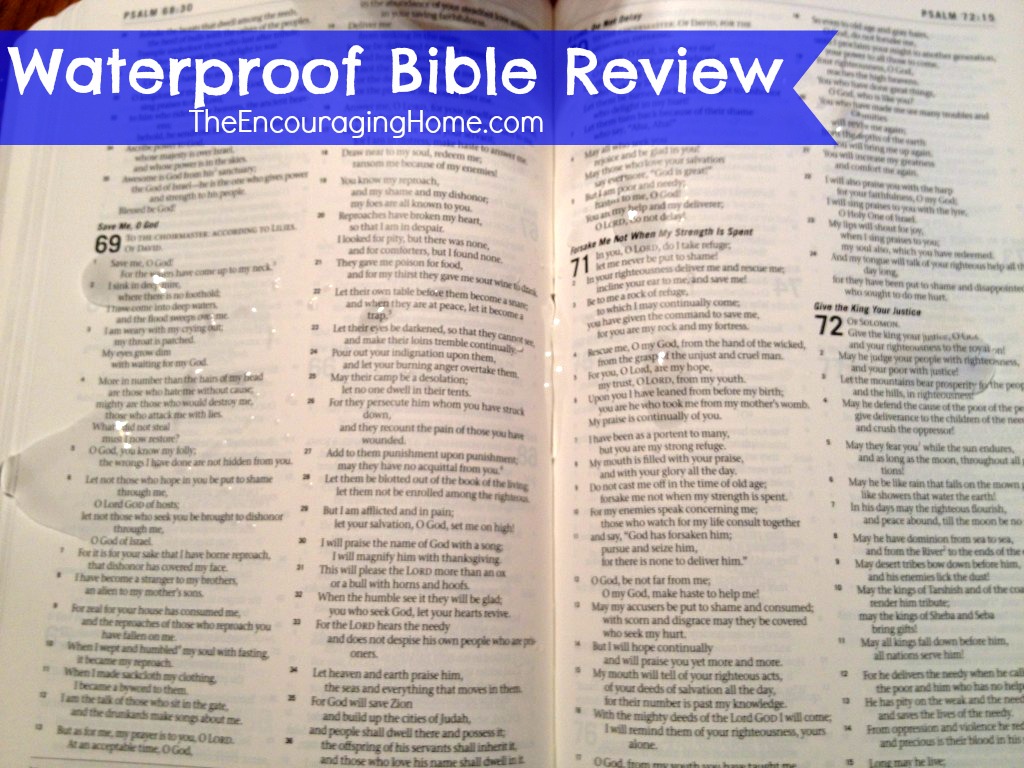 My family was so excited to receive the Waterproof Bible to review. My oldest son had been wanting it for a long time. But, I admit…my thoughts were… waterproof, really?? Could it really be?
 The Waterproof Bible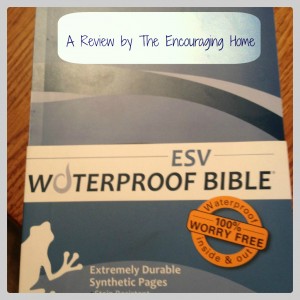 Bardin  & Marsee Publishing has a wonderful product that allows you to take God's Word anywhere….The Waterproof Bible.  How cool is that? How many times have you wanted to take your Bible with you on an adventure, but you didn't because of the fear that the most precious book would be ruined? I know I have. Now I am so excited to take my guidebook for life with me anywhere I go.
The description on the website says that it is:  Extremely Durable Synthetic Pages,  100% Worry Free, Stain Resistant, Ultra Clear Text, Ideal for Gear Bag or Backpack, Dry Highlight, Write and Underline, No Bleed Thru, F L O A T S. WOW.
Plus, it comes in several different translations~   NIV, NKJV KJV, ESV, NLT, NASB…something for everyone.
The Possibilities
Even though people think that this is probably designed for the "adventurer", I am thinking this is MUST for every household of boys~ even if you don't plan on going into the "wild".  You have the "wonderful, messy wild"  in your home, right???   🙂
Plus, you know we are farmers. Translation: we work in messy situations most of the time and we smell. Yes, that is right, going to the calf barn or milking parlor makes you stink and often be decorated with manure. There is no other way to put living on a dairy farm. So, how neat that we don't have to put off a special time because we are not clean and at our best.
I am excited thinking of the possibilities with The Waterproof Bible~ devotions by the pool, or the new pond & waterfall my family made for me, camping, hiking, carrying it in diaper bag with sippy cups (we all know that yucky mess), in the kitchen while cooking,  reading it with your favorite snack, or my personal favorite that doesn't happen very often…in the bathtub.
Or think of missionaries using it or our military having God's Word with them in the worst situations.
The Proof of the Waterproof
So, all these wonderful claims and I just have to try it out.  I admit I felt like I was doing something bad messing up my Bible~ but this is research for my wonderful readers!  I tried water, soft drink, peanut butter and chocolate. I don't do coffee, but sadly, I do enjoy my cokes and chocolate. Mommy. survival. staples.
Water~ I felt safe starting with water. Poured some water on, let it sit, wiped it off and the pages are dry and the same. No crinkling or tearing. Even down in the seams. Imagine that with a regular Bible.
Soft Drinks or cola or pop~ depending on where you are from. Down south, it is the name of the beverage. So, this one was an RC Cola. I poured some RC on it, let it sit for awhile to see if it would stain or crinkle the pages, then wiped it off. No change!!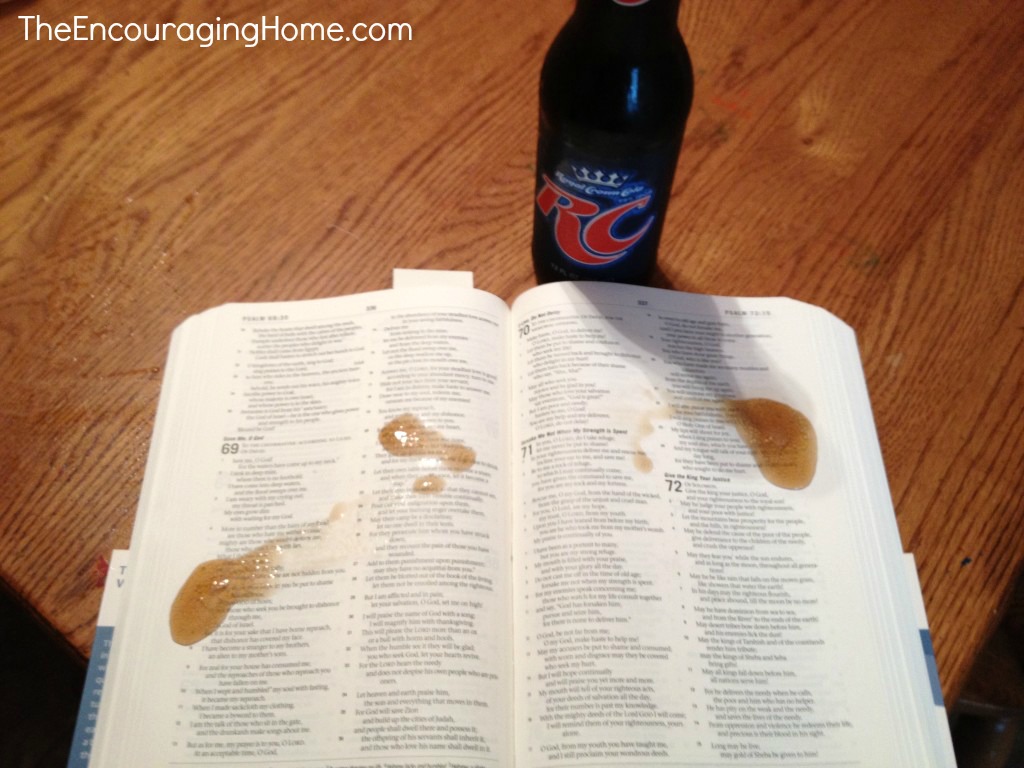 Peanut Butter~ I smeared the staple that moms of littles all use, let it sit, wiped it off with a dry towel and it was not sticky at all!
Chocolate~ I love my chocolate. I smeared, yes smeared chocolate on The Waterproof Bible, let it sit…you know the rest of the story….the Bible was clean!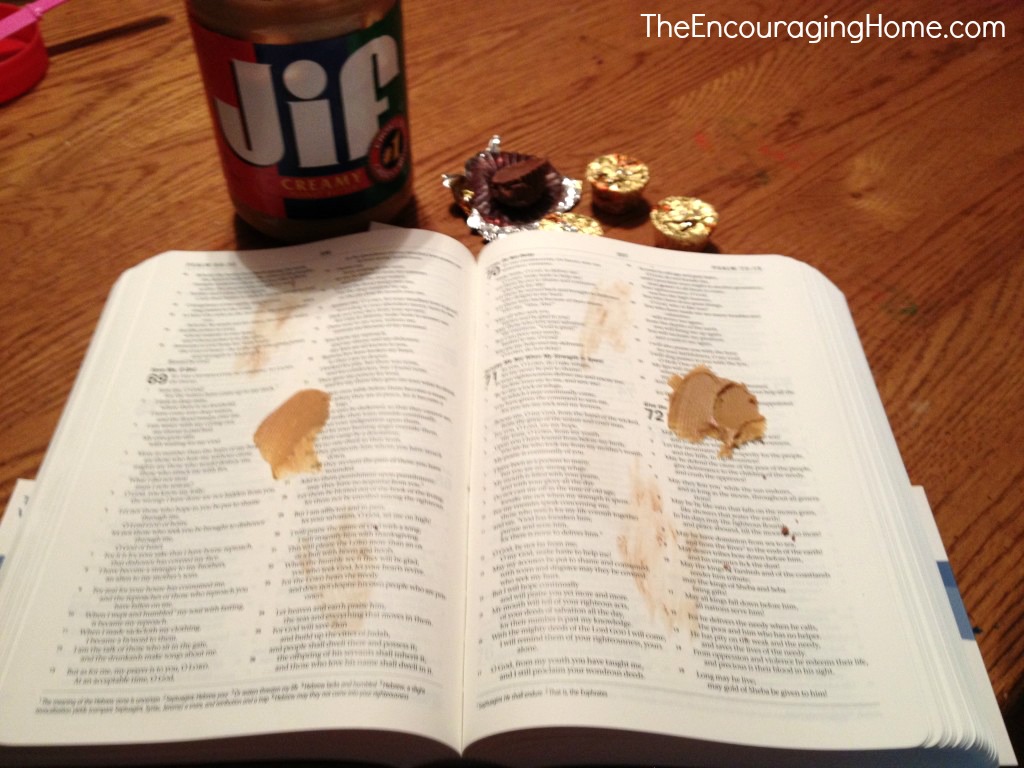 It is really neat how liquids just puddle up and almost roll off~ kind of like when you put rain – x on your windshield or wax the car. For peanut butter and chocolate, I was amazed that a dry cloth wiped it off and there was no sticky residue left.
I am convinced that the claims made are true! If it can stand up to food, liquids and little humans, imagine all the possibilities.
Please follow Waterproof Bible on Twitter and on Facebook to show your support, as well as NOT miss out on any new updates or products.
Free Shipping Offer *Offer now over.
Bardin & Marsee Publishing is offering free shipping to all The Encouraging Home readers. Just use code freeship15 through December 31, 2012 to save on shipping.  Think…Christmas gifts. Time to get started!
The Giveaway *Giveaway now over.
Bardin and Marsee is offering one of my readers a Waterproof Bible! Just enter the giveaway using the form below. This giveaway is open to US residents and military addresses only. You must be 18 to enter. Winners have 72 hours to contact me or a new winner will be chosen.
Want to see what other people are saying about The Waterproof Bible? Check out these reviews from other bloggers:
Disclaimer: I received the product for free and I was compensated for my time invested. All opinions are mine and honest, and I was not required to post a positive review. Read more legal stuff here. Thank you Ihomeschool Network and Bardin & Marsee Publishing!