Life is hard at times.  And sometimes I plan WAY too much. Last year was a mixture of both~ a hard year and big plans. This year, I am streamlining more. Life on the farm is busy, busy!! They learn a lot of life skills and hard work on the farm.
I decided to make planning/school/life a little easier this year. We are using a main curriculum that includes everything except Math. I am supplementing with other things when I have time or if I see an area that one of the boys needs extra work in. The curriculum stands on its own and doesn't need any supplementing.
I'm just weird like that…I have so many "good" things I like to use. I have quit beating myself up about not finishing everything and use parts that they need or quit using it when we do not "gel" with it. Moms, give yourself grace and let go of the guilt. It does nothing but weigh you down.
So, our year looks a little different than our 2011-2012 curriculum. My life did not go anywhere near like I had planned…does it ever for anybody? Life happened in a big way…sickness (I sat in a chair very sick with kidney stones for almost 2 months, dad had a stroke, extended family crazy issues, expanding the farm, managing the calves, etc…
Here we go… The boys (Grades 3 & 5) are VERY excited about school, so we have already started our year. It is a thrill to see them excited. When we moved to the Charlotte Mason approach of doing school, excitement returned. I had to "get" over my years of being a teacher and remember that we were "homeschooling" NOT "schooling at home" and reproducing my classroom.
NOW, here we go…

Morning Time:
We like to start off our mornings sitting on the couch with Morning Time which includes Bible, Memory Verses, Hymn,  Latin, Life of Fred, Calendar, Poetry Memorization, Michael Clay Thompson Grammar Island, sometimes a composer or artist. It doesn't always happen every day, but it is our goal and the boys enjoy our special time. We might not get this completed every day, depending on our farm schedule, but we love our morning time.
*A few of these links go to Hearts at Home Curriculum Discount Store~ just type in the product in the search button*
Bible:
Grapevine Studies: Joseph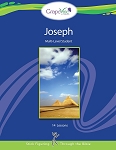 Child Training Bible (check back for a giveaway this week!)
Apologia's Who Is God? (Apologetics)
We Choose Virtues (Character Training)
Main:
Trail Guide to Learning: Paths of Exploration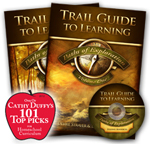 Learn about the character and experiences of explorers who shaped us as a nation with their vision, determination, bravery, and sacrifice.
It is All-Inclusive, history based, literature based and has a great plan, list of skills, lesson plans/weekly check list. It fits nicely with my Charlotte Mason love of learning~ copywork/dictation, higher level thinking skills, nature study and is based on Dr. Ruth Beechick's principles.
Each unit in the book should take about six weeks to complete. The six units of the Paths of Exploration are:
Columbus (includes people such as Marco Polo, Christopher Columbus, Gutenberg)
Jamestown (includes people such as John Smith, Pocahontas, and Leonardo da Vinci)
Pilgrims (includes people such as William Bradford, Squanto, and Galileo)
Daniel Boone (includes such people as James Cook, Benjamin Franklin, and Handel)
Lewis & Clark (includes such people as Sacagawea, Thomas Jefferson, and Mozart)
Trails West (includes people such as Johnny Appleseed, Zebulon Pike, and Jesse Applegate)
We love History around here!  You can see a sample lesson and skill chart here.
We are also adding in the Light for the Trail Character Units to go along with this. I am considering the Trail Guide to Learning Lapbook from A Journey Through Learning, but not sure yet.
Drive Thu History Dvds are a wonderful addition to our curriculum.
Your Story Hour CDs have a wonderful collection of history stories.
Math:
We love Teaching Textbooks!! Life of Fred is fun as well and nice to snuggle on the couch with.
Science:
We do not need to add in science, as it is covered in Trail Guide to Learning, but we LOVE Apologia so we are finishing up Astronomy, then we will move on to Botany. We are lapbooking our journey.
Vision Forum's Jonathan Park CDs
LATIN:
CRITICAL THINKING:
FINE ARTS:
Mike's Inspiration Station Art Instruction Dvds~ we are really enjoying this! Read my review here.

Study one poet, composer, artist per month…I love the blog Mt. Hope Chronicles'  Fine Arts Friday plans.
Picture Study Portfolios by Simply Charlotte Mason
Piano Instruction with Mom
 Need a boost to help get your started off right? Check out the Back to School Boost for Moms!
How about you? What are you using this year? I love to read about curriculum and books!
                                   Link up with the 4th Annual "Not" Back to School Blog Hop at iHomeschool Network.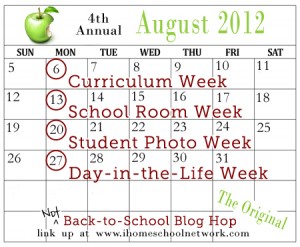 This post contains affliate links for a few of the products listed above. Thank you for supporting this blog!