Have you heard of Grapevine Bible Studies: Stick Figuring Through the Bible? I first learned about them last year and loved it! We enjoyed the Old Testament Overview.  This is isn't just for homeschoolers~ it would be great for family devotions, Sunday School, backyard Bible Clubs, and school.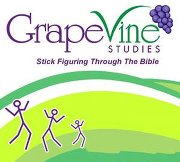 My boys love to draw, so this is something they really enjoy.
A little overview if you aren't familiar with Grapevine:
Easy to Prepare – Effective to Teach

Finally, a Bible study curriculum that engages the intellect while stimulating the imagination! Grapevine Studies provides effective, easy-to-teach Bible curriculum to disciple students ages five to adult. Through the use of Bible timelines and easy-to-follow lessons, Grapevine Studies will give your students a panoramic view of the Bible.
This is a very easy curriculum to prepare and teach. Kids will love getting to draw and learn more about the characters in the Bible.  Hands – on always makes it more fun and helps it "stick".
Joseph:
I was excited to receive the Joseph Multi – Level (ages 7 and up) Bible Study Student and Teacher ebooks to review. We were already familiar with Grapevine and loved it!  I want my boys to know about Joseph and remember his character and choices.  I want them to really remember and have it deep in their hearts.
Description from the website:
Walk with Joseph as he goes from a prince in Canaan to slavery in Egypt and then to the courts of Pharaoh. Students will enjoy this engaging Bible study! On this journey students will travel with Joseph from the tents of Jacob to the house of Potiphar and eventually to the courts of Pharaoh. Students will watch to see how Joseph reacted to his slavery and false accusations.


See how God used difficult circumstances in Josephs life to prepare him to save thousands of people, including those who mistreated him. Joseph's story is one of betrayal, forgiveness, and restoration. Students will love this fresh look at the man named Joseph!
The Multi-Level Bible Study includes 14 Weekly Lessons or 50 Daily Lessons.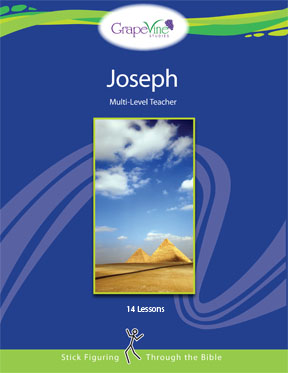 The Student Book includes:
lessons pages
timelines
memory verses
reviews
map
Students will need a Bible, Grapevine Studies student book, and colored pencils. How simple is that?
The Teacher Book includes:
lesson notes
timelines
stick  figure drawings
map, lesson goals & key points
memory verses
review questions & answers
Teachers will need a Bible, Grapevine Studies Teacher book, dry erase board & markers (8 colors), and Bible dictionary.
The books are available as ebooks to download or there are printed versions.
Instead of printing out the Teacher book this year, I am viewing the Teacher book on the IPad.  I sometimes draw the figures if they are a little more difficult or I just let the boys copy from the IPad while I read the brief description to them. This cuts down on paper and notebooks. It is also nice to use if one is sick or gets behind.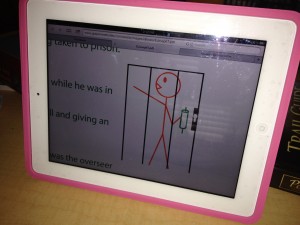 What the boys like about Grapevine Bible Studies: Joseph Curriculum:
They love to draw and color, so this is a perfect fit.
They love adventure and heroes~ the story of Joseph is full of adventure and not being sure what will happen next.
They love the Bible and learning about God and people in the Bible.
What I like:
Scripturally sound.
Simple preparation. None required after the initial gathering of books and supplies. Prayer is the preparation needed daily.
Works with all learning styles~ auditory, visual, hands-0n…you do it all with this curriculum.
Easy to use with a variety of ages and would work well with VBS, Sunday School, Backyard Bible Club, School
Want to try Grapevine Studies? Visit their site for free samples and to learn more.
Grapevine has a coupon code just for you! Use code  12BlogSun  for 20% Off entire order at checkout.
I received a Teacher and Student ebook for an honest review of the product. I received no compensation. This post includes affiliate links.