Hmm..when did I become the girl that wore comfy clothes, tennis shoes, and put her hair in a pony tail all day?  I used to love to dress up or at least wear nice casual clothes.  Somewhere between being a teacher before our children were born and now, I have become "that girl".  The one I said I would never become.
The one that looks worn out when her hard working man comes home. The one who barely made it out of her pjs.  The one that never found time to put a little make up on that day.
I was always going to look nice for my man…just like when we were first married or when I was working.  Always going to take the extra minutes before he came home to fix up and look nice for him.
Something about being a stay at home mom, homeschooler, farm girl (whose husband works on the farm) got me to the frumpy stage.  You would think knowing I would be seeing him throughout the day would encourage me to fix up in the morning. Nah.
Maybe I never recovered from when our children were small and I was up with them throughout the night.  Or maybe it was the great "kidney stone saga" recently that made it even worse. I barely felt like getting out of the chair for two months, let alone fixing up…and into that bad habit I slid.
Now, my sweet husband has never said anything about it. But every man likes for his wife to look pretty and fix up for him.  And I do get nice compliments when I am dressed up for church.  Or when he comes home and my hair is out of the pony tail and I have a little make up on.
It doesn't help that (even though we don't have  TV) we enjoy watching classic shows on dvd like Donna Reed and Leave it to Beaver. And we all know what Donna and June looked like…pretty dresses, pearls, nice hair (that wasn't in a pony tail) and high heels.
My son asked why our house wasn't like Donna Reed's show and I proceeded into this long speech about how "Donna had a TV crew in the background fixing the food they were eating on the table, and had complete wardrobe, hair and makeup departments, and she wasn't "really" cleaning the house…just doing it for a scene, and her pretend kids went to school all day, and Donna doesn't live on a sometimes stinky farm and there weren't computers, cell phones, and… "  ~  did I really just go into that huge spill with my son about that?  Was I really making excuses, even though I would like our home to resemble that?
How much trouble would it be for me to get up a little earlier to look nice…just as if I expected company?  Look nice for my family, because they are more important to me than company. Because I am more productive when I am dressed and feel more presentable.  I want my family to know that I love them enough to take care of myself, my health, and our home. It just takes a few extra minutes to make myself or something in the house look better. To do it out of love.
I have no desire to walk around in high heels all day (OUCH), but I do want to make an effort to get away from the frumpy that I have allowed to slip in. What is wrong with the "Donna Reed" ideal?
Enter Sarah Mae and  her new ebook Frumps to Pumps.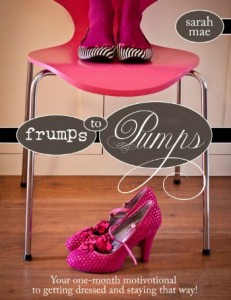 She helped us get our house in order with 31 Days to Clean and now she wants to help us get our "girl" back on with her new ebook.
Frumps to Pumps is a one month Motivotional (Motivation + Devotional) to help us get on track with getting dressed and staying that way, all while examining our hearts and attitudes.
How about you? Do you struggle with being frumpy? How would you like to surprise your family each day by looking nice. Will they wonder where you are going or who is visiting?
Surprise them using Frumps to Pumps.
Don't forget to visit our newest sponsor, The Confident Mom, and check our her Weekly Household Planner. Use code Home2 throught Saturday night for a discount.  Her planner will help you on your way to being less frumpy and getting your life in order. LOVE the planner!!
Mary
I would love to connect with you everday on Facebook and Twitter. Subscribe by email to have posts delivered to your inbox.
Linking up with: Women Living Well, The Better Mom,Growing Home, Far Above Rubies, Time Warp Wife, Proverbs 31 Thursday, Raising Arrows, Raising Homemakers, A Wise Woman Builds Her Home, Deep Roots at Home, Our Simple Farm